Document Scanning/Capture
The capture process model of DBS
2
is one that has been tested and verified for perfection since our inception. Our process is evaluated for each project and adjusted to meet our customersí requirements.
Initially, all documents are inventoried, based first on the broadest level of organization (box, basket, etc.), and followed through to the smallest level of organization provided.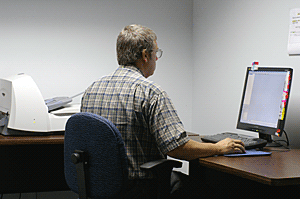 The documents are then individually prepared for scanning. The level of preparation performed at the DBS2 facilities is dependent uponthe amount of document preparation performed by the customer or third party prior to DBS2 taking possession of the material. Preparation can vary depending on the document condition. Tasks range fromfrom removing staples in pages, to repairing torn edges, to realigning sticky memos. Document separator sheets are inserted where appropriate to delineate where one document ends and another begins. The number of documents per batch is recorded.
The document preparation step is then verified to assure the individual has prepared the documents in a way that can be scanned and meets the customerís requirements.
The next processing step is scanning. Scanning is the process of creating a digital image from a piece of paper so that it can be used in a computer. During this step, the operator sets the machine to assure images generated meet the customerís requirements (dpi, blank pages deleted, right orientation, etc.). A page count is generated by the scanning device for each batch and recorded appropriately.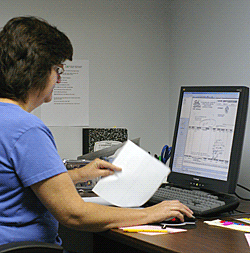 Based on customer requirements, blank pages and pages of unnecessary data are deleted from the batch. The goal is to have an image that looks the same as, or better than, the original document. If the image meets the project specific quality criteria, it moves on through the process. If the image is not what it should be, an image is missing, or is unacceptable in quality, those document pages must be rescanned.
An index of the imaged documents is created in a database, making the images readily accessible from the customer system at a later date. Different projects require different index values. Each document maintains a unique number within the system. Extraction of the indexes is completed from the images themselves to assure quality.
Quality Assurance (QA) is a final image verification step. An experienced operator who has demonstrated an attention to detail and performs consistently high-quality work completes the QA step.
When all of the above steps are complete and the quality of the image and index values are confirmed, the data is committed to the imaging system, or transmitted to the clientís host system.
After documents are repacked in the original boxes there are several return options for our customers. Documents can be returned to the customer location, returned to a storage facility, stored by DBS2, destroyed by DBS2, or stored by DBS2 until a desired maturity date and then destroyed.
Learn about our quality assurance program and how we apply it to this process>>>
To find out how our process can work with your business, contact us>>>